27 Jun 2022
BUTLER DENIES DEWSBURY RAM-RAID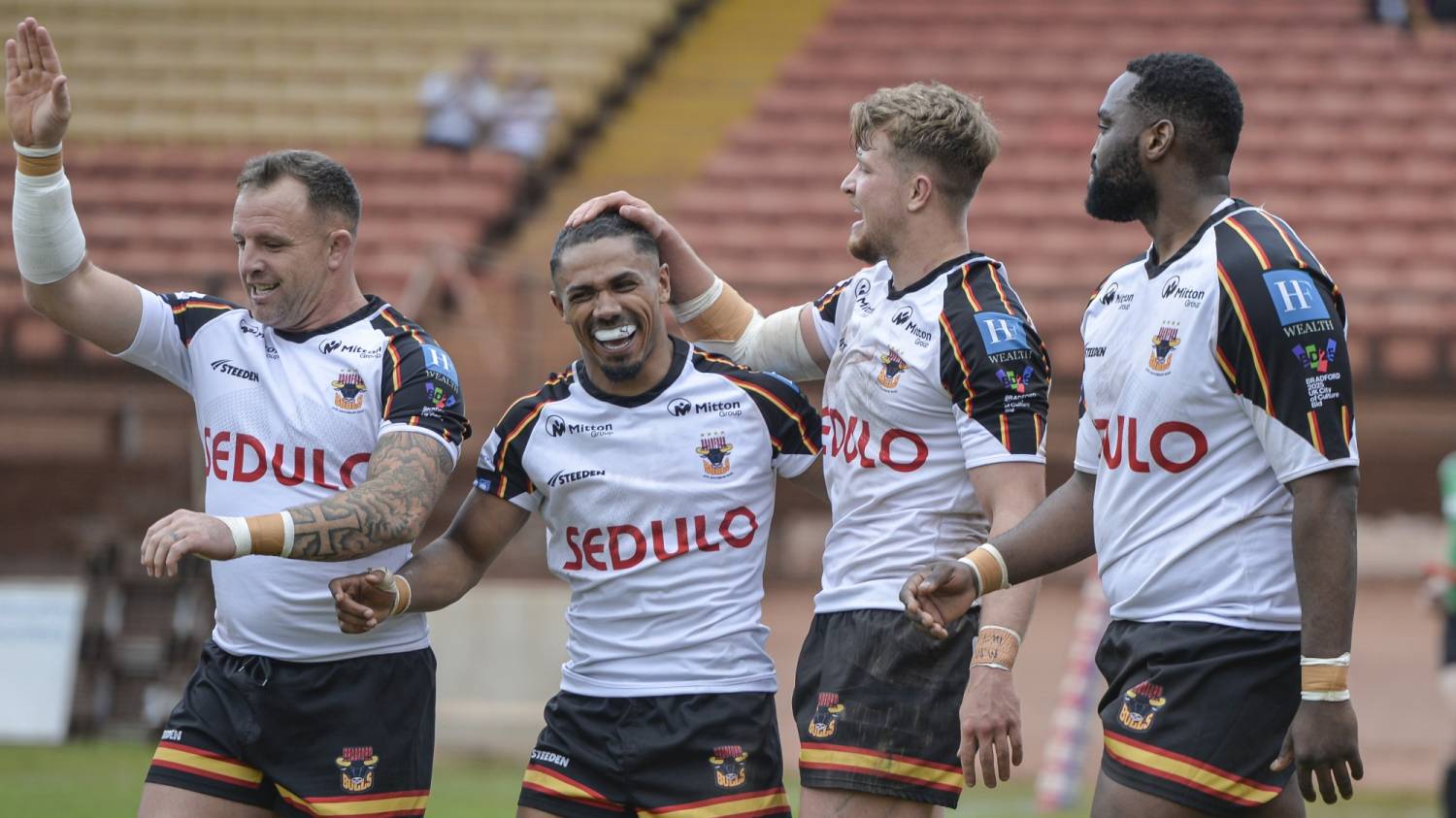 Bradford Bulls defeated local rivals Dewsbury Rams 48-6 on Sunday afternoon, with Chester Butler scoring a quick-fire double!
Ryan Millar continued his try-scoring form, with an early score, before Dewsbury hit back through Andy Gabriel.
Bradford would lead going into the break, after a quick-fire double courtesy of Elliot Kear and Chester Butler.
The latter grabbed his second soon after the break, with Kieran Gill linking up with Dec Patton to extend the lead.
Skipper Steve Crossley then danced his way over, with two more scores following to wrap up the victory.
Jordan Lilley with an eye-catching dart through the Rams defence, before Samy Kibula showed a clean pair of heels to race away and seal the victory.
Mark Dunning brought back AJ Wallace and Matty Dawson Jones into his line-up; however, the latter was replaced early on with an injury.
That didn't stop the charge though, as the man in form Millar took a looping ball from Patton to stroll in.
Dewsbury drew level momentarily through Gabriel, but Bradford would not be behind for long as Patton threw a double pump, which saw Kear race through a gap.
On the stroke of half time, Butler grabbed his first as a fast break saw the Welsh International race through and touch down for his first try.
Straight after half-time, he was over the line again, this time Ram-Raiding through the Dewsbury defence to cap off a man of the match performance.
Patton and Gill then combined once again to extend the lead, a familiar situation for Bradford fans.
Then came the moment of the match, as Captain Crossley showed his footwork as he danced over the line for one of the tries of his career.
Lilley, then came back with a bang, twisting and turning his way over the line before another eye-catching score from Kibula.
Dewsbury spilled the ball, which left Kibula to scoop up the loose ball and race a mere 40 metre's to score the final try of the game.
BRADFORD BULLS – Elliot Kear, David Foggin-Johnston, Matty Dawson-Jones, Kieran Gill, Ryan Millar, Dec Patton, Jordan Lilley, Ebon Scurr, Thomas Doyle, Steve Crossley, AJ Wallace, Chester Butler, Sam Hallas.
INTERCHANGES – George Flanagan, Jordan Baldwinson, Samy Kibula, Ant Walker.
TRIES
Millar, Kear, Butler (2), Gill, Lilley, Kibula, Crossley
GOALS
Patton 8/8
DEWSBURY RAMS – Calum Turner, Andy Gabriel, Adam Ryder, David Dixon, Ben Blackmore, Paul Sykes, Bailey Gill, James Backett, Reiss Butterworth, Harry Kidd, Matthew Garside, Micheal Knowles, Jack Blagborough.
INTERCHANGES – Dom Speakman, Jordan Schofield, Jon Luke-Kirby, Jackson Walker.
TRIES
Gabriel
GOALS
Sykes