13 Jun 2022
MAGIC MILLAR HELPS BULLS OVERCOME EAGLES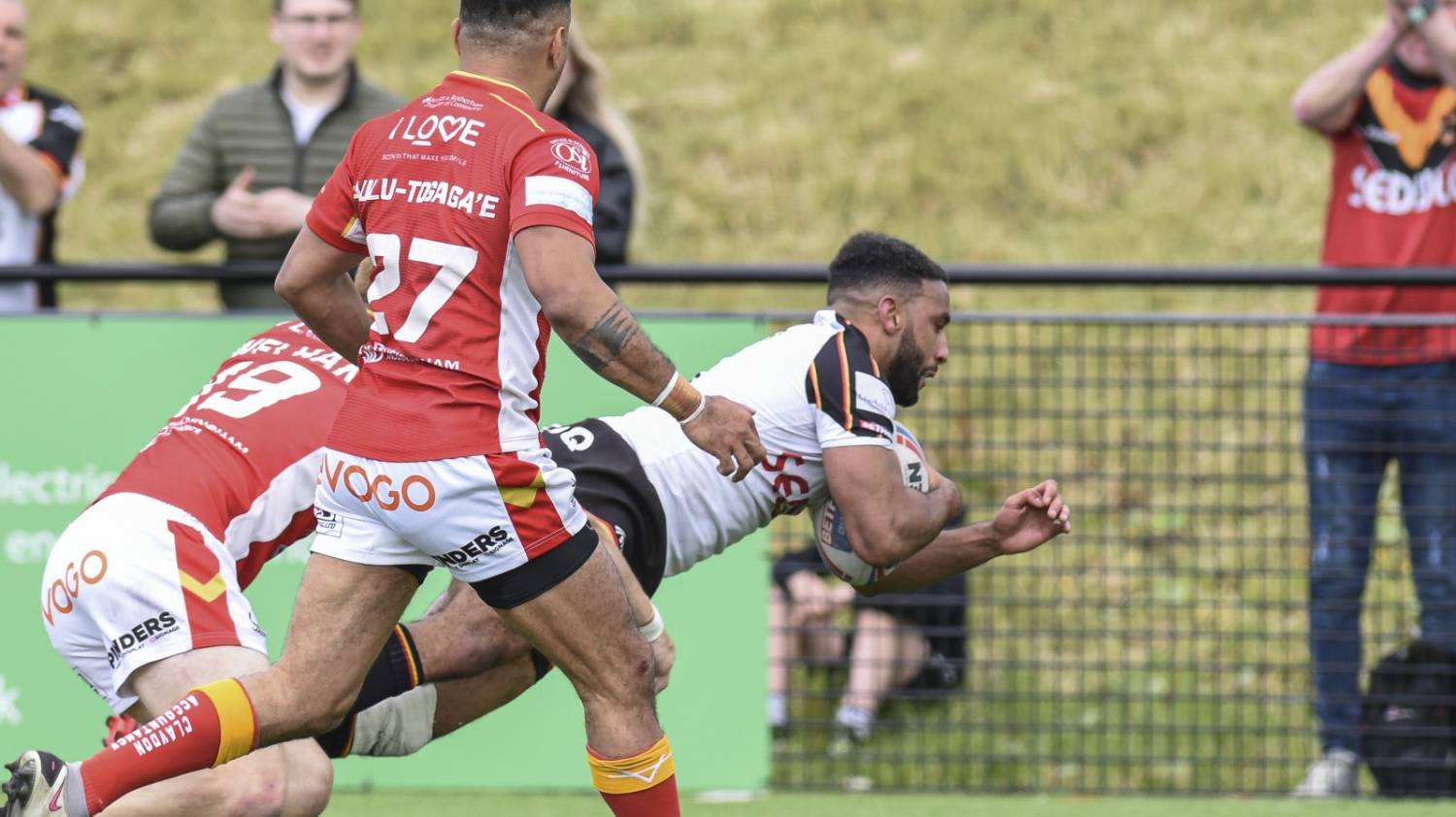 Ryan Millar scored a double vs his former club to help Bradford Bulls claim two valuable points, as we returned to winning ways with a 30-10 success at Olympic Legacy Park!
Foggin-Johnston opened the scoring early on, as loanee Corey Johnson then profited from an Eagles error to extend the lead.
Sheffield hit back, after a spell of Bulls pressure, to level the scores, as Kris Welham and Anthony Thackeray both went over on the stroke of half-time.
Brandon Pickersgill, however ensured we went into half-time leading.
We would then keep Sheffield scoreless in the second half, as Dec Patton added a penalty goal, before Ryan Millar profited from a break to score in the corner.
He sealed the game soon after, as he raced away to score in the corner yet again.
Mark Dunning made eight changes to his side, bringing back winger David Foggin-Johnston, and he had an instant impact.
Four minutes in, he was diving over acrobatically in the corner to open the scoring after a looping pass from Johnson.
Mellor then went close, with Doyle also being held up, before Chrimes couldn't take the ball in goal which left Johnson to touch down and extend our lead.
In a manic ten minutes, former Bull Kris Welham scored Sheffield's first try, before a kick over the top saw Thackeray regather and race away to score, levelling up proceedings.
Patton the sent a reverse kick, behind the Eagles defence which only Pickersgill read, to ensure we went into half-time leading.
After the interval, Sheffield would not score again, however we looked about extending our lead as Patton sent over a penalty goal.
Millar, then scored the first of his second half double after Patton's kick was offloaded to Gill, who managed to feed it to German speedster to crash over in the corner.
His second, which sealed the game was a break that saw Gill, Kear and himself finishing the move to round off a superb afternoon's work.
SHEFFIELD EAGLES – Quentin Laulu-Togagea'e, Ben Jones-Bishop, Kris Welham, Ryan Johnson, Matty Chrimes, Izaak Farrell, Anthony Thackeray, Liam Kirk, Tom Holmes, Tylar Dickinson, Conor Bower, Ross Oakes, Evan Hodgson.
INTERCHANGES – Jason Bass, Brandon Douglas, Blake Broadbent, Cory Aston.
TRIES
Welham, Thackeray
GOALS
Farrell 1/2
BRADFORD BULLS – Brandon Pickersgill, David Foggin-Johnston, Elliot Kear, Kieran Gill, Ryan Millar, Dec Patton, Corey Johnson, Ebon Scurr, Thomas Doyle, Steve Crossley, Alex Mellor, Chester Butler, Sam Hallas.
INTERCHANGES – George Flanagan, Jordan Baldwinson, Ben Evans, Ant Walker.
TRIES
Foggin-Johnston, Johnson, Pickersgill, Millar (2)
GOALS
Patton 5/6